| | |
| --- | --- |
| REGIS Solar Installation Screenshot - CSUB | REGISTM is a GIS based platform for remote and mobile management of commercial, institutional, and utility scale renewable energy sites. |
Renewable energy projects typically span three phases; project development, construction, ongoing operations and maintenance. THE Company has developed a solution we have named "REGIS" which comes from the abbreviation of "Renewable Energy Geographic Information System". REGIS is a critical tool for any company experiencing rapid growth that has a need to deploy a mobile workforce to optimize the operation of generation assets. The results are increased availability, reliability, reduced maintenance expense, and increased revenues.


Suited for laptops or touch-screen tablet PCs, REGIS is powered by the GO! Sync Mobile GIS system that connects technicians in the field back to the office with critical mapping, job information, and work-order tracking. The REGIS solution expands functionality by including real-time integration with remote monitoring systems, sensors, actual vs projected production, and existing asset management tools. Custom forms allow technicans to record component specifications, configuration data, drawings, warranty information, and inspection results. REGIS allows owner/operators with a portfolio of assets to easily manage multiple generation technologies, project locations, and field teams all in one scalable and visual tool.
California State University, Bakersfield


1.2 Megawatt solar PV carport system is monitored by REGIS. We have installed an outdoor kiosk that provides real-time and historical energy production information. This installation of REGIS also provides an educational video that explains the basics of "How Solar Works" for students and faculty.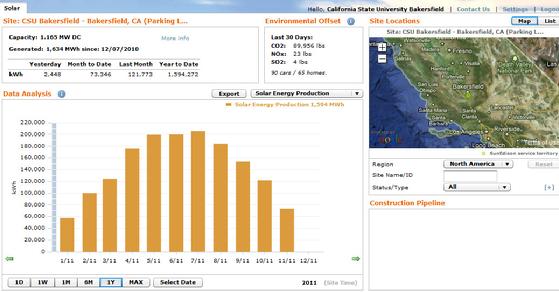 CalState University Bakersfield Screenshot